The need to remain cool and comfortable increases as the summer's sweltering heat approaches. The air conditioner (AC) is one of the key devices that we need to stay cool. For an AC to work at its best throughout the summer, adequate care and maintenance are also necessary.
In this article, we will provide some valuable air conditioner tips for the summer season, including AC cleaning tips and the importance of AC service in Gurgaon. Whether you are a homeowner or a business owner, these tips will help you keep your AC running efficiently and effectively, providing much-needed relief from the sweltering heat. So, read on to learn how to make the most of your AC this summer and stay cool and comfortable in the scorching heat!
Best Air Conditioner Cleaning Tips for Summer Season
Here are some valuable and easy to follow tips that will allow you to keep your AC up and running throughout this summer. 
Tip #1: Focus On Keeping your AC clean
As summer approaches, ensuring your air conditioning equipment is clean and maintained properly for optimal operation is crucial. Regular AC cleaning increases your unit's longevity and energy efficiency, ensuring that it properly cools your area while reducing your power costs. Here are some AC cleaning tips that you can follow:
DIY Cleaning Tips for AC Unit
Clean the air filters:

Air filters in your AC unit accumulate dust and debris over time, reducing efficiency. Clean or replace the filters monthly to keep the air flow unrestricted and maintain optimal performance.

Clean the coils

: The coils of your AC unit, evaporator and condenser coils, can accumulate dirt and dust, affecting their ability to transfer heat efficiently. Clean the coils using a soft brush or vacuum to remove the debris.

Clean the condensate drain line:

The condensate drain line can get clogged with dirt, algae, or mould, leading to water leakage or reduced cooling performance. Clean the drain line using water, bleach, or a pipe cleaner to keep it clear.
#Tip 2: Optimal energy usage
To lessen our influence on the environment and save money on energy bills, it is essential to keep our houses cool and practice energy conservation. Energy conservation is crucial to easing the load on power systems during the busiest summer months and guaranteeing a consistent electricity supply for everybody. It also reduces greenhouse gas emissions, which contribute to climate change and environmental deterioration. 
Tips for Efficient AC Usage to Save on Energy Bills
Set the thermostat at an optimal temperature:

Set your AC thermostat to an energy-efficient temperature, ideally between 24-26 degrees Celsius, to balance comfort and energy savings.

Seal air leaks:

Seal air leaks in your home, such as gaps around windows and doors, to prevent cooled air from escaping, making your AC work harder and consume more energy.

Use natural ventilation:

Use natural ventilation by opening windows and using fans to circulate fresh air, especially during cooler evenings or early mornings.

Regular AC maintenance:

Ensure regular AC maintenance, such as cleaning or replacing air filters, cleaning coils, and checking for leaks, to maintain optimal performance and energy efficiency.
Use smart features

:

Smart features in many contemporary air conditioners, such as timers, remote controls, and energy-saving modes, can help you maximize energy efficiency and cut costs. Set timers for automatic shut-off, change the temperature remotely, or utilize energy-saving settings to maximize cooling while reducing energy use by utilizing these smart features.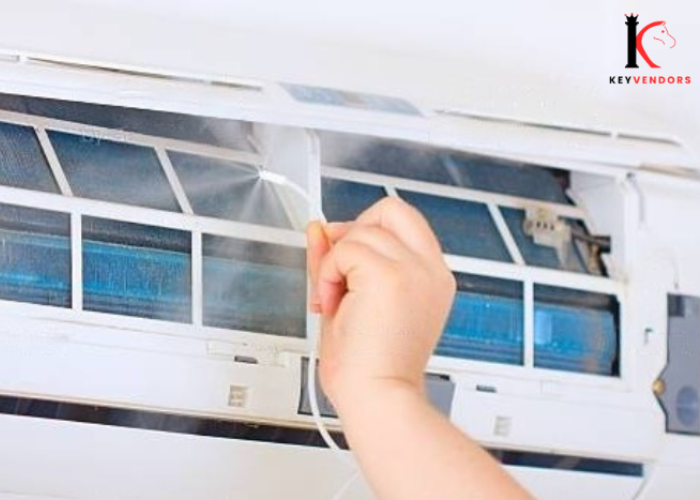 DIY Maintenance Tips
Clean or replace air filters regularly to maintain proper airflow and prevent dust and debris from accumulating.

Keep the outdoor unit clean by removing dirt, leaves, and debris from the surrounding area and the unit itself.

Clean the coils periodically using a soft brush or vacuum to remove dirt and dust that can accumulate on the evaporator and condenser coils.

Check and clean the condensate drain line to prevent clogging and water leakage.
Tip #4: Tips to Get Comfortable Cooling
In addition to regular AC cleaning and maintenance, there are other tips you can follow to ensure comfortable and efficient cooling during the hot summer months. By utilising ceiling fans, programmable thermostats, and keeping windows and doors sealed, you can enhance the performance of your AC unit and create a more comfortable indoor environment. Here are some additional tips for optimising your AC's performance:
Utilizing Ceiling Fans in Conjunction with AC for Better Cooling
Ceiling fans can complement your AC unit by creating a breeze that helps distribute cool air more effectively throughout the room. Running ceiling fans in the counterclockwise direction during summer can create a wind-chill effect, making you feel cooler without lowering the thermostat temperature.Ceiling fans can also reduce the strain on your AC unit by allowing you to set the thermostat at a slightly higher temperature while still maintaining comfortable cooling.
Using Programmable Thermostats to Regulate Temperature
Programmable thermostats allow you to set different temperature levels for different times of the day, helping you optimize energy usage and reduce electricity bills. You can program your thermostat to automatically adjust the temperature settings when you are away from home or at night, saving energy and ensuring efficient cooling only when needed.
Keeping Windows and Doors Sealed to Prevent Heat Infiltration
Ensure that all windows and doors are properly sealed to prevent hot air from infiltrating your home and reduce the efficiency of your AC unit. Use weatherstripping or caulking to seal any gaps or leaks around windows and doors, and close curtains or blinds during the hottest part of the day to block out direct sunlight. Insulate your home properly to minimise heat transfer and reduce the load on your AC unit, resulting in more effective and efficient cooling.
Tip #5: Using the Best AC Service
AC servicing is a crucial step towards achieving this goal, and it is highly recommended to get it done by professionals to ensure the best results. Keyvendors is a reliable AC service in Gurgaon that can help you keep your AC units in excellent condition and ensure optimal summer performance.
Here are some reasons why AC servicing is crucial before the summer season:
Improved Performance:

Regular AC servicing can significantly improve the performance of your AC unit. It ensures that all the unit's components are in good condition and functioning correctly, improving overall efficiency.

Lower Energy Bills:

A well-maintained AC unit consumes less energy and can significantly reduce your energy bills. AC servicing can help identify and fix any issues causing your unit to consume more energy than necessary.

Extended Lifespan:

Regular AC servicing can extend the lifespan of your unit by keeping it in top condition. It can help identify and fix any issues before they cause significant damage to the unit, reducing the need for expensive repairs or replacements.

Improved Air Quality:

AC servicing can also help improve the air quality in your home by ensuring that the air filters are clean and functioning correctly. This can significantly reduce the amount of dust, pollen, and other contaminants in the air, making it safer and healthier to breathe.
They also offer flexible service plans to suit your specific needs and budget, making keeping your AC unit in excellent condition easy and convenient.
Conclusion
Following these summer AC tips is important for a comfortable and efficient cooling experience. Regular AC cleaning and service by professionals like Keyvendors in Gurgaon can ensure optimal performance. So, remember to keep your AC clean, get it serviced regularly, and follow these tips for a cool and refreshing summer season. Contact Keyvendors today to schedule an AC service and enjoy a hassle-free summer season!